A recipe with flakes that of biscuits with many sugar-free chocolate chips in the dough.
Awesome to try immediately even with dried fruit instead of chocolate!!!
Breakfast is certainly one of the most important and loved meals by each of us: never skip it and never run out of something greedy that convinces us to answer the sound of the alarm!
To start the day in the right way, we thought of a jar full of biscuits to accompany a cup of milk and coffee.
And this is how the chocolate biscuits that we prepare together were born: rich in fiber, without sugar and many chocolate chips that will delight everyone.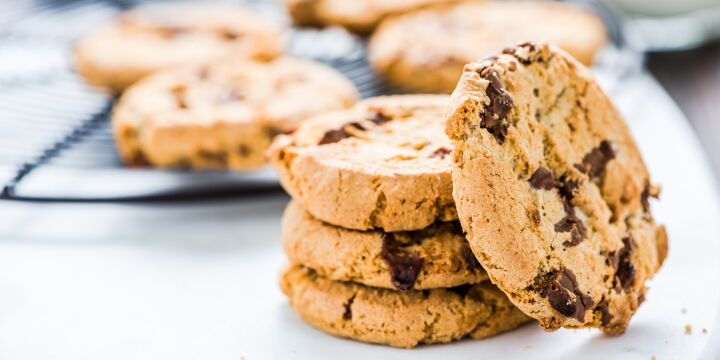 A classic of American pastry: the biscuits that have conquered the whole world!
But when were they born?
According to some testimonies, the first cookies were created, by mistake, during the 1930s, in Massachusetts, by Ruth Wakefield.
The chef's intention was to prepare simple biscuits using cocoa powder. However, the ingredient, not available, was replaced by Ruth Wakefield with pieces of Nestlè chocolate, thinking that, during cooking in the oven, they would melt.
Once out of the oven, the flakes remained intact and the biscuits crunchy to the taste.
Customers were enthusiastic about this delicious version and we immediately started talking about this "mistake".
The owners of Nestle immediately decided to go to the Toll House Inn; the shop in which Ruth Wakefield churned out her wonders and to enter into a contract.
Nestlè immediately launched the new product on the market and, from that day on, Cookies were born, which have now become the most famous cookies in the States.
Even today, Ruth Wakefield's Cookies are one of the best known preparations in the world reaching a reputation equal to that of American donuts or muffins.
Classic recipe and its variants
The preparation of American biscuits includes fixed ingredients such as, for example, cane sugar to be used together with white sugar in very high doses.
Soft butter, eggs, flour and chocolate chips must not be missing.
Over time, different variations have emerged: without butter, in the version with white chocolate chips, with dried fruit flakes such as peanuts, pistachios and walnuts.
There is the Monster version which is the one with M & M's and Double chocolate chip cookies with double chocolate and then again tropical versions with coconut and lime flakes. Infinite versions but with features not to be changed: the rounded shape and their being crumbly and melt-in-the-bite.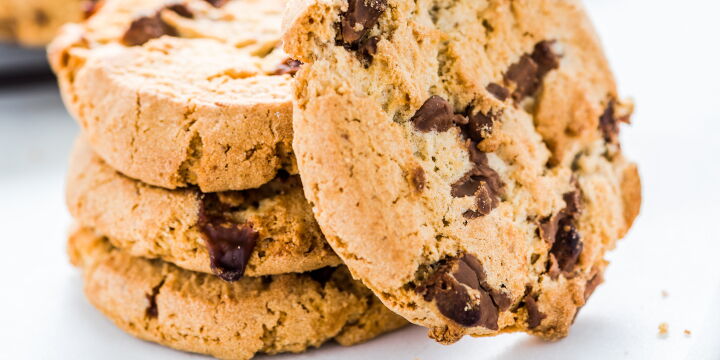 Very easy to prepare at home; are perfect for a delicious breakfast or a tasty break.
A version with flakes and healthy
The version that I propose in this article is my personal reinterpretation of American biscuits: less caloric, with clarified butter instead of the classic one and without sugar in the dough but no less greedy than the originals.
To make the shortcrust pastry I chose to make a mix of two Smile Crunch products which, combined together, allowed me to create a greedy taste that should be tried only for the scent that comes out of the oven during cooking: baby vanilla oat flakes and the oatmeal biscuit.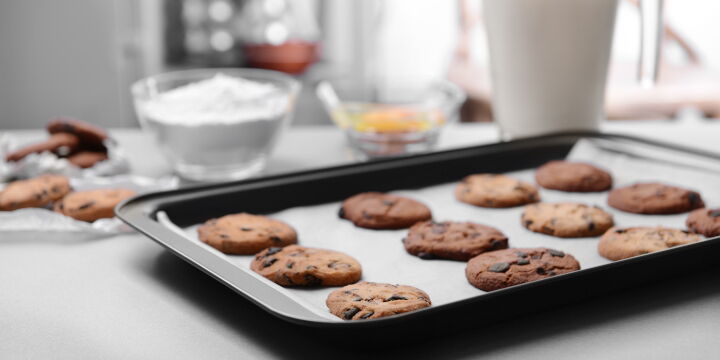 Preparing cookies with our version is really simple and in 15 minutes you can enjoy wonders with lots of chocolate chips.
Not even the molds are needed!!!
Ingredients:
doses for 20 biscuits
200g of biscuit oatmeal
4g of baking soda
2g of salt
50g of erythritol
2 eggs (47g 54g)
80g of ghee (clarified butter)
50g of dark chocolate chips
Method:
In a container we put the soft ghee with the erythritol and, with a spoon, we work it until obtaining a soft cream.
Also add the lightly beaten eggs and mix the ingredients.
In a separate container, instead, combine the flour, oat flakes, baking soda and salt; mix the ingredients together.
Add the dry ingredients to the liquids. We turn quickly with a spoon and also add the chocolate chips.
Make a dough with which we form a roll that we wrap in cling film.
Leave rest in the fridge for 20 minutes.
Turn on the oven at 180° static.
With a floured knife, cut 20 discs of about 1cm thick and place them on a baking sheet lined with baking paper.
Bake for 15 minutes or in any case until they are golden.
Let it cool completely to get the crumbly consistency.
Let's taste immediately.