Cocoa and chocolate: differences and benefits
Before moving on to the actual recipe, let's see why bitter cocoa and chocolate are not the same!
Bitter cocoa with no added sugar is incredibly useful food for the body. Bitter cocoa powder is rich in protective antioxidant polyphenols for cardiovascular health, an ally of the intestinal microbiota, and a source of precious mineral salts such as magnesium, manganese, iron, and copper.

As for chocolate, however, its beneficial properties are directly proportional to the quality and quantity of the ingredients used in its preparation. Depending on the substances used, chocolate can become a great ally or a bitter enemy of our health!
How is bitter cocoa made?
To make bitter cocoa powder, cocoa butter is removed from the cocoa mass, i.e. the pure cocoa paste obtained by grinding and roasting cocoa beans without adding other ingredients.

This leads to a lean, dark cocoa powder, deprived of fat and dense with nutrients, which is very, very different from chocolate!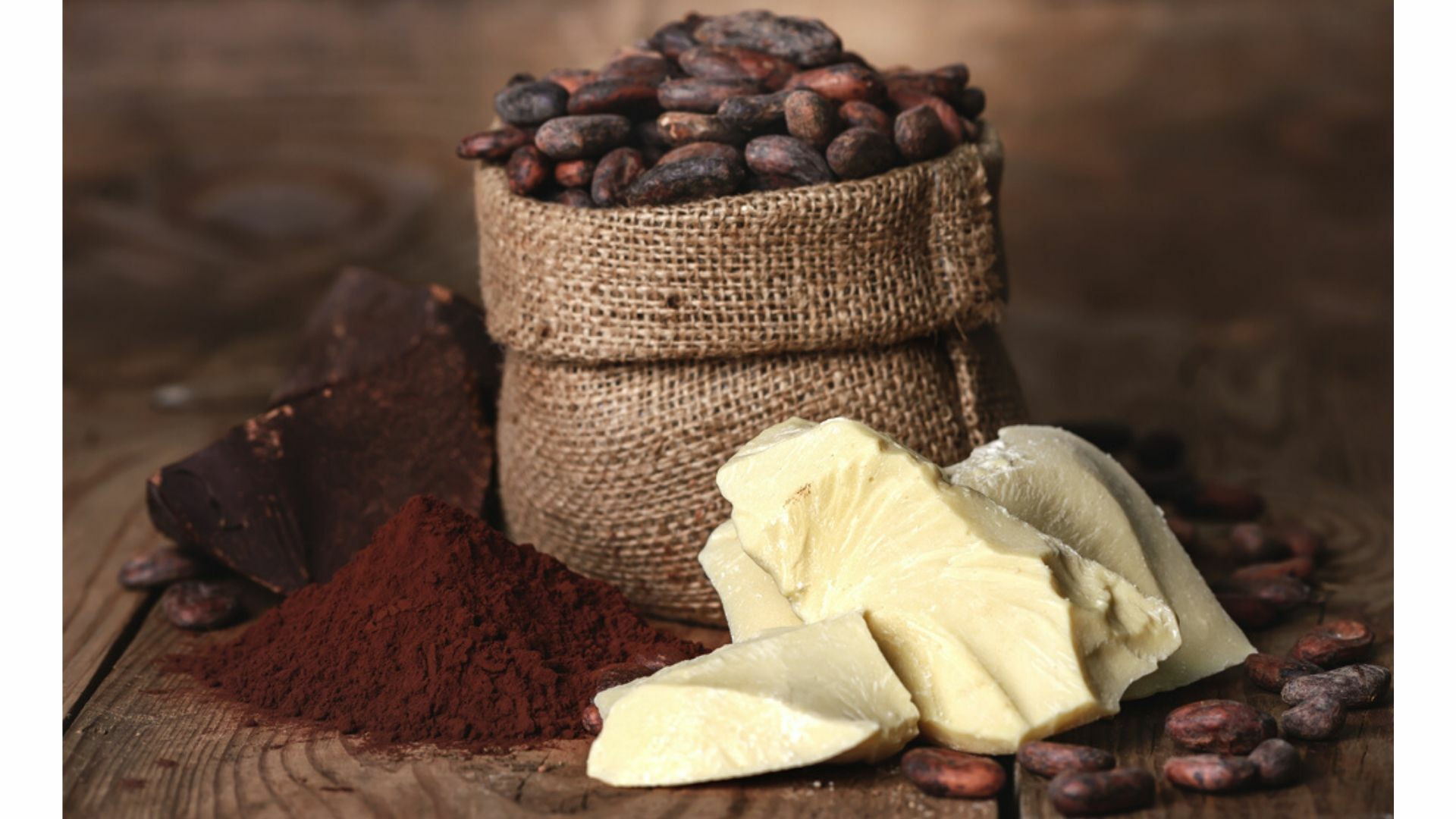 The natural ingredients from which chocolate is produced: cocoa beans, butter, powder.
... and chocolate?
To create chocolate you have to add more cocoa butter to the pure cocoa mass, along with sugar, milk powder, and other ingredients depending on the type of chocolate you want to obtain.
The result is, obviously, a much fatter and sweeter product compared to cocoa powder
Dark, milk, white chocolate
By adding only sugar and cocoa butter to chocolate, you obtain dark chocolate, where the amount of cocoa used, is higher than that found in milk chocolate, which instead requires the addition of milk powder. In milk chocolate, the percentage of sugar and milk can easily cover 70% of the total. The rest is mostly cocoa butter!

Not to mention white chocolate which is nothing but the product of sugar, milk powder and cocoa butter!

There are uncountable different varieties on the market with the addition of other aromas and flavors such as hazelnuts, almonds, chili peppers, dried fruit, mint, etc.
Choose chocolate wisely
So... which is the chocolate to prefer? Undoubtedly the extra dark with the words "100% chocolate" or "99%" on the label because, in the first case, the sugars used to make the bar are zero, in the second only 1%! As the percentage changes (e.g. 85%, 70%, 65%, etc ...) there will be more sugars and fats and less cocoa.
---
Mini chocolate cake with a soft heart recipe
After this short excursus on chocolate, here is our recipe! Today we use both organic bitter cocoa powder and dark chocolate to make some delicious mini pie ready in 1 minute!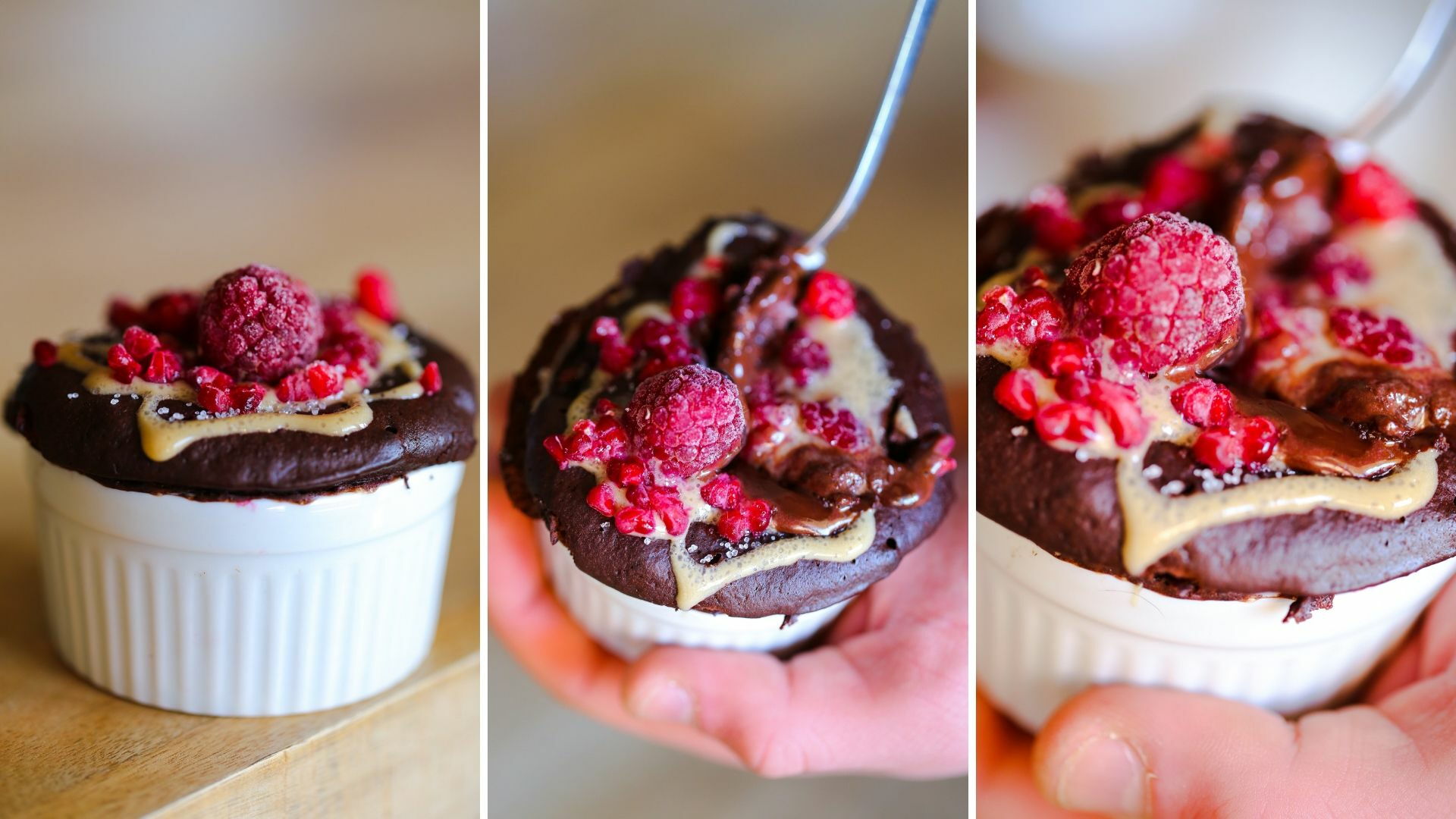 Mini chocolate cake with a soft heart.

Ingredients
Method
Break 40g of dark chocolate cubes and put them in the freezer.
Melt 60g of extra dark chocolate with coconut oil.
Add the sweetener and a pinch of salt.
 Combine egg white, bitter cocoa, and oatmeal. Mix until a smooth and lump-free mixture is obtained.
Fill ½ cup with the dough. Add 2 dark chocolate cubes and 1 raspberry to the center. Cover with other dough until ¾ is filled with a baking tray.
 Bake in the microwave at 900w for 1 minute or in a preheated oven at 180° for 5 minutes.
Decorate as desired. I used a creamy sauce made with 30g of protein powder, water, and a handful of raspberries.
Serve hot for maximum melting. Yum!
Macros: C 8g F 15g P9g
Conclusion
Bitter cocoa and dark chocolate are precious for our health and we should include them more often in our diet! Moreover, they allow us to make excellent delicacies such as these warm-hearted cupcakes. Mouth-watering!

Continue to discover our Recipes of Health on Instagram, follow @iafstore and @lefitbistrot