Pistachio what a passion: between history and present day
Do you love the taste of Pistachio and Crepes ? This recipe will come to your mind when you feel like a quick but very tasty lunch or dinner!
Loved in every version, sweet or savoury, the recipes with Pistachio conquer the palates of adults and children and making a simple dish delicious is very little with this " millennial green hazelnut ".
The legends of the fruit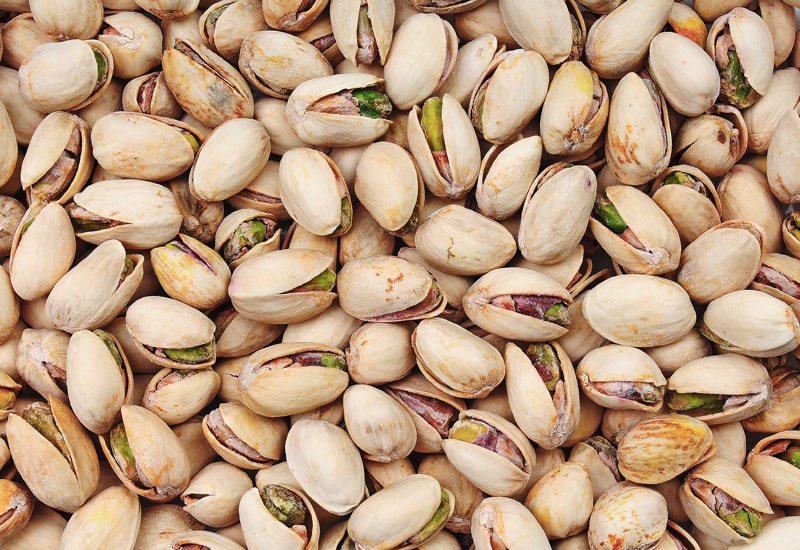 It is said that he was loved by the Queen of Sheba, who was so greedy that she grew an exclusive plantation for herself and her courtiers. The fame of the pistachio also grew among the hanging gardens of ancient Babylon, under King Nebuchadnezzar II. From Alexander the Great in the 4th century BC, in Greece up to the end of the empire of Tiberius, at the hands of the Romans, its expansion as food did not stop even in Italy between 20 and 30 AD. But our green gold finally secured its position in a natural habitat similar to that of origin, thanks to the Arabs who invaded the Mediterranean between the eighth and ninth centuries AD, and the diffusion of pistachio cultivation thus arrived in Sicily, at the foot of the 'Etna, where it put down strong roots which then allowed its diffusion all over the world.
A lot of history but also many nutritional properties
Pistachios possess numerous healing and health-promoting properties. They are rich in vitamins A, B1, B2, B3, B5, B6, C as well as containing iron, phosphorus, manganese, potassium and copper. The plant was also already known to oriental populations precisely for its healing principles.
But in addition to its history and benefits, let's not forget its pleasantly tasty side!
There is very little to say about the gastronomic goodness of the pistachio: in a savory, sweet or simply dried fruit to shell or nibble, it is one of those unmistakable tastes that you cannot help but love.
Pistachio crepes in a savory version
And here is my very personal version of an alternative lunch or dinner that you will surely love if you are a pistachio lover. I chose to use a special low glycemic index flour, with a high nutritional profile as well as satiating: oatmeal (I chose the salted pistachio flavored one from Yamamoto Whole Oat Flour Salted Pistachio Flavor but if you also want the flavorless version there is also Whole Oat Flour Natural Flavor). An incredibly perfect meal if combined with a delicious filling like the one we will see later in this recipe, inside the tasty cream that we will prepare I will use 100% organic Pistachio Cream;
Ingredients for the crepes
3 whole eggs;
500 ml of cow or vegetable milk for a lactose-free version;
250 gr of salted pistachio flavored oatmeal - Whole Oat Flour Salted Pistachio Flavour;
Pinch of salt.
Method
In a boule or large bowl we pour the eggs and the milk and mix everything. Sift the liquid compound over our fragrant oatmeal to prevent lumps from forming, and then we start mixing again to amalgamate the combined ingredients. Once this operation is finished and the mixture is homogeneous, we can add a pinch of salt; then we will let it rest in the fridge for 30'.
Filling for savory crepes with oatmeal
Choice of: speck or mushrooms;
200 ml of vegetable béchamel;
90 g of 100% organic Pistachio Cream.
Method
Slice the selected sliced ​​meat or the previously cooked and well dried mushrooms, take a pan and sauté the first element or the second over high heat with a spoonful of oil; add the vegetable béchamel and immediately afterwards the flame of the fire can be lowered. At this point we can add our precious 100% Organic Pistachio Cream and if necessary to balance the flavour, a pinch of salt can be added. Once we begin to see the boil of our compound we can turn it off and we have reached the right consistency.
At this point we are ready to cook our crepes!
If we had a crepe maker at home it would be perfect, but possibly a flat non-stick pan is also fine. Let's heat it first to bring the mixture to temperature and cook our crepe mixture evenly and quickly. Remember to grease it by dabbing the entire surface with a paper towel and a drizzle of oil. In order to understand that cooking is perfect and ready to be cooked on the other side, the spatula under the crepes slides to the center and you can turn the side. Our round and cooked dough is now almost ready! Stuff them directly on top of the pan while it is still completely open, take a spoonful of filling and place it along the entire half, the other half without cream, lift it and close it on top of the other.
One by one, put them on a plate and cook until you run out of both the crepe mixture and its filling! You just have to enjoy your nutritious, fragrant and very pistachio meal.