What are cashews?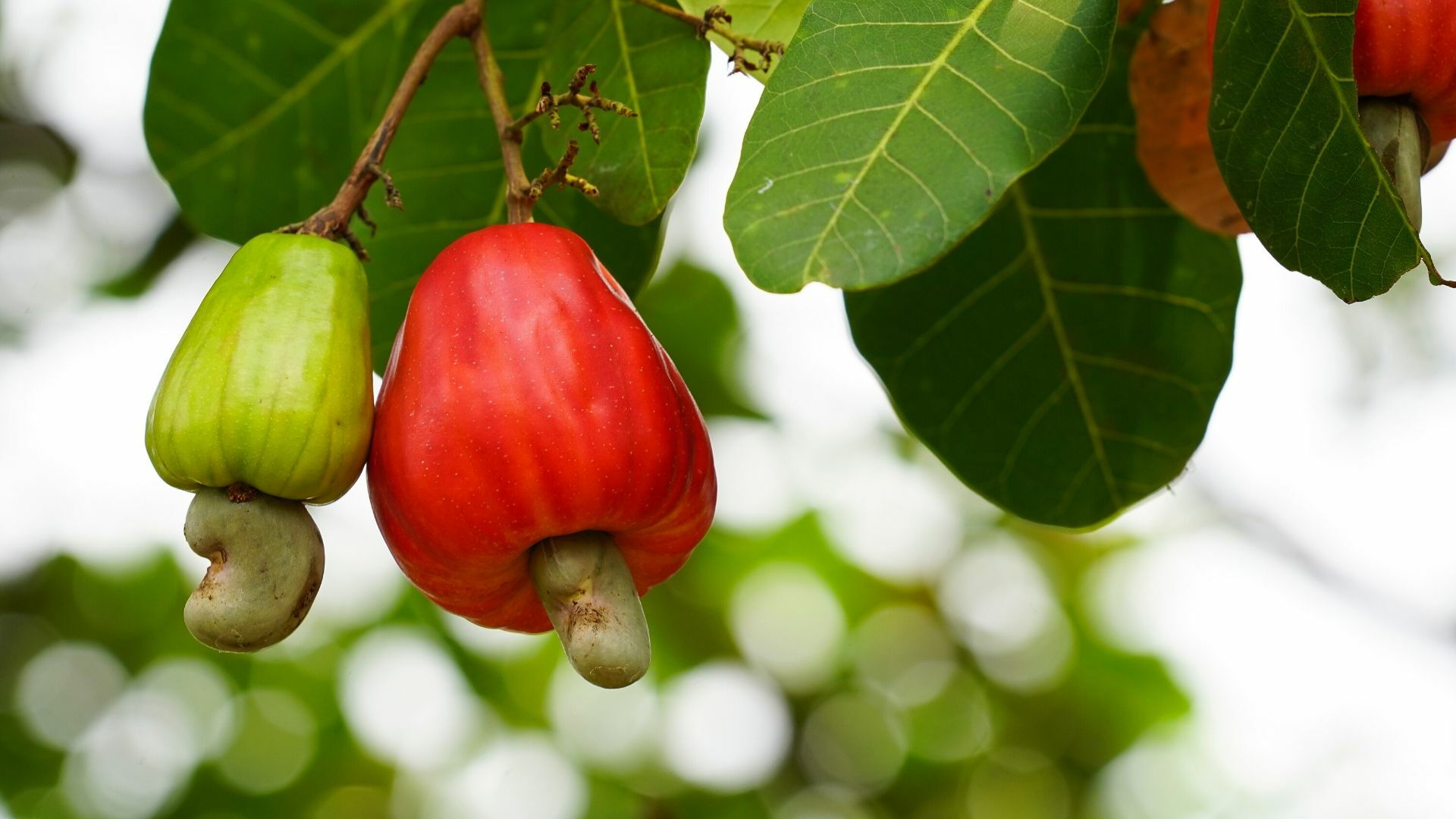 Cashew nut plant (Anacardium occidentale, L.) characterized by the presence of two fruits: one fresh, called "cashew apple", and one dry, called "almond or cashew nut", the only one of the two edible.
Cashews are part of the tasty family of dried fruit, although they are generally less known and used than other more popular fruits such as peanuts, walnuts, hazelnuts or almonds.

The world's largest producers of cashews are India, Sri Lanka, Kenya and Tanzania, where they are very popular in local dishes but also in more oriental recipes, such as cashew chicken, a classic of Chinese and Thai cuisine.

In recent times, the use of cashews is spreading to produce alternative products to dairy products such as the cashew-based vegetable drink (also called "cashew milk"), cashew cheese, sauces, creams and cream sour. In this article, we will explore one of the most loved foods that derive from these fruits: the cashew cream, a "lighter" alternative to other dried fruit creams such as peanuts or almonds.
Organic cashew cream: provenance and calories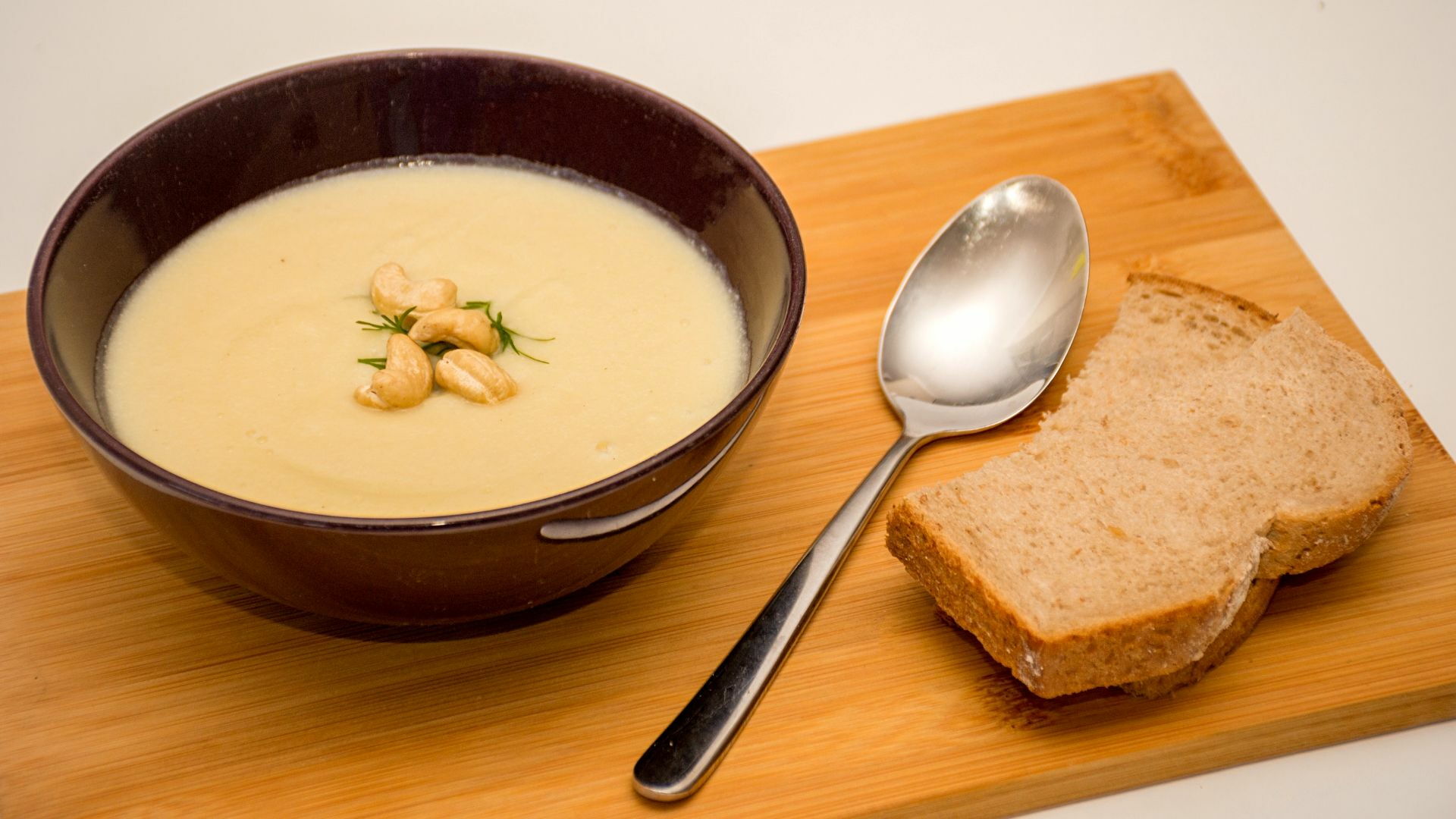 Delicious vegan, gluten-free cream with leeks, potatoes, garlic, cashew nuts, enriched with a tablespoon of cashew cream.
Derived from the processing of freshly picked fruits from organic farming, the organic cashew cream does not contain refined ingredients such as sugars, preservatives or thickeners, but only pure 100% natural roasted organic cashews.
In terms of nutritional values ??and calories, the cashew cream provides about 550 calories per 100 grams, making it an excellent natural alternative to sports snacks or for those looking for a spreadable cream to use for breakfast or as a snack, both healthy and good for the palate (always taking into account the caloric impact of the cashews on the diet).
Dried fruit creams are spreading a lot in recent years because, not only cashews, almonds, peanuts are very tasty, but also because scientific research has brought out the many benefits for the body (if taken sparingly, given the caloric density!).
Properties, nutrients, benefits of organic cashew cream
In nutritive terms, cashews in cream or pâté have a lower fat content than other dried fruits (about 40%/50%) and consist mainly of:
monounsaturated fatty acids (or "MUFA", which contain oleic acid), that slow down the rate at which sugars are released into the bloodstream resulting in greater glycemic control;
polyunsaturated fatty acids in minor portions ("PUFA").
Because of the beneficial properties of unsaturated fats on the metabolism, many studies associate the consumption of cashews (and dried fruit in general) with a reduction in the risk of developing heart or coronary diseases, presenting a positive influence on the reduction of LDL cholesterol and triglycerides.
Cashews are also rich in nutrients such as vitamins, minerals, and amino acids:
magnesium, an essential mineral for the body that intervenes in many biochemical reactions of the body, including muscular and nervous ones;
B vitamins;
essential amino acids;
minerals such as potassium, phosphorus, sodium, zinc, copper, iron and selenium;
tryptophan, an important amino acid precursor of serotonin (in 100 grams of cashew nuts there are about 400mg of tryptophan) which makes cashews great allies of good humor;
cashew acid that not only stimulates sugar control but also helps the cells in properly absorbing the sugar itself.
The properties of cashews do not end there! These fruits also contain antioxidant substances such as zeaxanthin, a pigment whose functions include filtering UVA rays at the level of the retina, helping to prevent ocular degeneration typical of old age.
Who should be careful
Given the allergic nature of dried fruit, those who are sensitive or allergic to this type of food or nickel must be particularly careful in the consumption of cashews.
Smile Crunch 100% organic cashew cream
Smile Crunch Cashew Cream is prepared with organically grown cashew nuts; collected and immediately processed, toasted and ground to stone to obtain a paté, a soft and fragrant cream. The organic cashew cream is completely free of dyes, preservatives, hydrogenated oils as well as gluten and lactose and guarantees all the benefits combined with the sweet and natural taste of these fruits.
---

Buy the 100% organic Cashew Cream Smile Crunch!
---