Organic almond cream is not just a snack with a velvety and delicate taste.
It is also a food that provides innumerable healthy nutrients and is produced through sustainable organic farming that respects the ecosystems. Let's see how the organic almond cream is made, the beneficial properties it brings and some ideas for using it in the kitchen.
Beneficial properties of organic almond cream
Organic almond cream contains all the goodness of organic almonds, including the many nutrients of which they are rich and which are respected in the process of cultivation and processing of the product:
Essential fatty acids, especially monounsaturates, such as oleic and palmitoleic acid, are a real cure for the cardiovascular system because they help to lower "bad" cholesterol and support the "good" cholesterol.
Vegetable proteins (22%) and many different types of amino acids such as alanine, arginine, aspartic and glutamic acid, glycine, etc...
Fibers help keep blood sugar stable by controlling the appetite and promoting intestinal motility.
Vitamin E: a powerful antioxidant that fights oxidative stress and free radicals, helping to protect the cardiovascular system.
B vitamins (in particular B1 and B2)
Vitamin A: fundamental for the sight, development and strengthening of bones and teeth, and as a support for the immune system.
Choline: keeps cholesterol levels in the blood under control and protects liver health.
Minerals: magnesium, iron, calcium, potassium, copper, selenium, manganese, phosphorus, zinc. In particular, potassium helps the cardiocirculatory level, and, thanks also to the low sodium content, is an ally for maintaining physiological blood pressure. Iron, an ally of those suffering from anemia. Finally, calcium and phosphorus keep the bones healthy.
Recipes with organic almond cream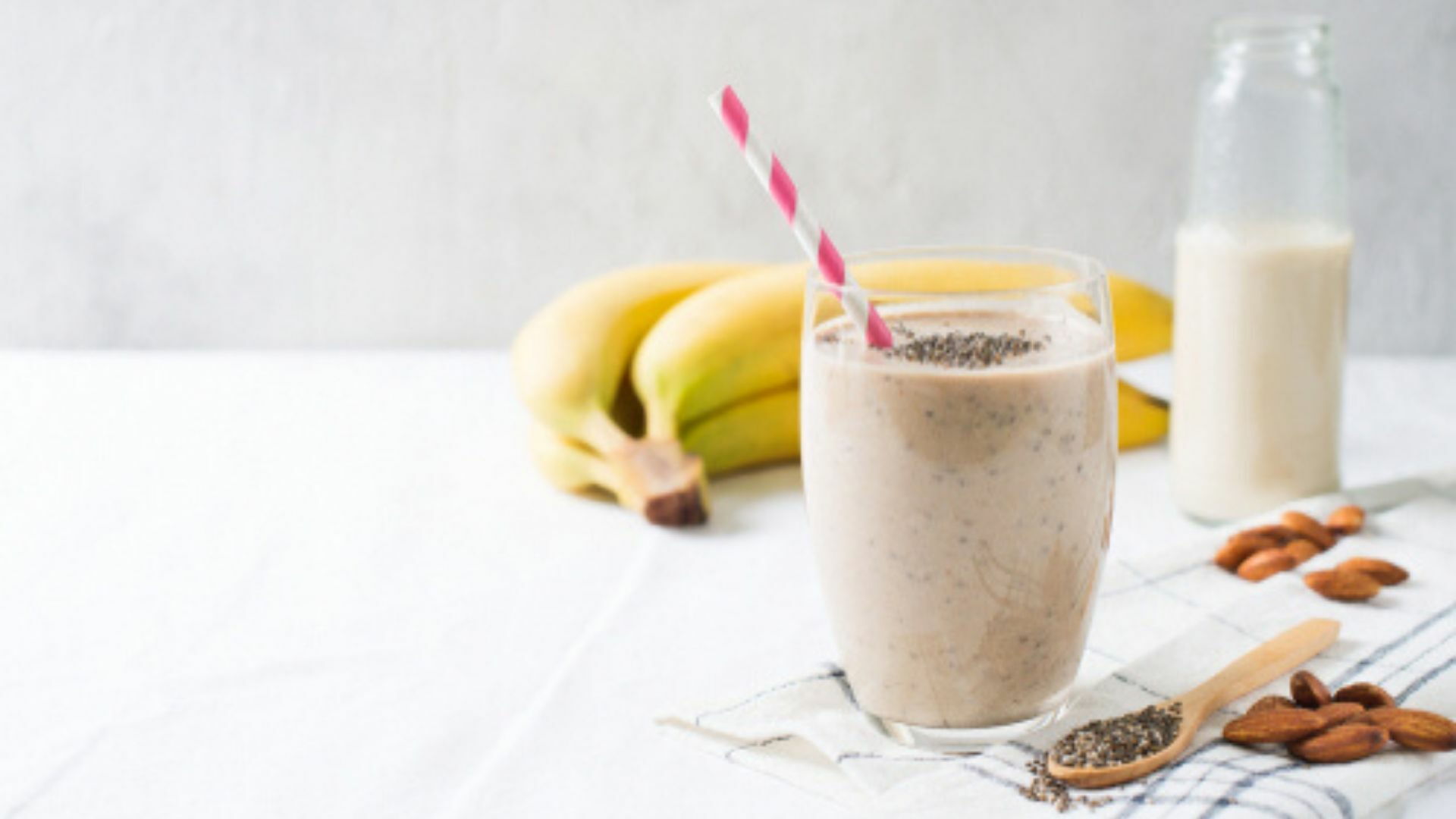 The healthy idea: a smoothie with soy milk, banana, almond cream, and chia seeds.
Organic almond cream is a food that, in addition to being very nutritious, is extremely versatile in the kitchen. Try it at different times of the day:
As a snack: perfect for those who follow a balanced, healthy diet. Spread it on bread and biscuits; try it in soft cakes, in tasty cookies, in creams or on ice cream.
At breakfast: add the almond cream in your child's milk and cereal, in yogurt, in warm milk or in smoothies to give that extra fragrance.
In risotto: did you know that almond cream is an excellent vegetable substitute for butter, without the cholesterol? Remember to vigorously beat the risotto for a perfect creaming!
100% organic Smile Crunch almond cream
Organic almond cream is preferable to any other because it uses only organically grown almonds, without gluten, lactose, added sugars, nor colorings, preservatives, stabilizers or emulsifiers. Moreover, it is produced with a gentle, sustainable process that respects the natural environment.

Smile Crunch prepares the almond cream as you would do it: slipping, selecting and peeling the almonds, which are then lightly toasted and cold-ground to preserve all the beneficial properties.

The product has the advantage of preserving itself thanks to the natural oils contained in the seeds, the same oils that give such a fabulously creamy consistency. It is also a perfect solution for those who are intolerant or allergic to peanuts, other dried fruits or milk.