Is it possible to make soft and tasty muffins without using eggs, dairy products and oil?
The answer is yes, and now we're going to show you how.
Our recipe contains neither dairy products nor animal sources, except for honey which can be replaced with agave or rice syrup.
They are rich in protein and low in carbohydrates and fat. Easy to achieve and the result is guaranteed.
Benefits of the banana
Bananas are rich in active ingredients that are beneficial to our health!
They are rich in potassium, vitamin C and vitamin B6 and contain a good amount of fibre and many minerals.
Among the minerals, we find in great quantity Potassium, which is an essential mineral for the health of the heart thanks to its role in regulating blood pressure. A small fruit (100 g) provides 9% of the RDA. Always a small banana (100 g of pulp) has about 90 calories and is composed mainly of water and carbohydrates.
Another important mineral for controlling blood pressure is magnesium. A small banana provides about 8% of the daily requirement of this mineral.
In addition, increasing the intake of magnesium and potassium can be more effective in reducing blood pressure.
Bananas are also rich in antioxidants. Antioxidants are compounds that prevent cell damage caused by molecules called free radicals. Excessive free radicals in your body can lead to an imbalance known as oxidative stress, which is related to conditions such as heart disease, diabetes and cancer.
Bananas are sources of prebiotics, a type of fibre that nourishes beneficial intestinal bacteria.
Fruit glycosaccharides are the main type of prebiotic fibre in bananas, but they also contain another type, inulin. Prebiotics in bananas can reduce swelling, increase the diversity of intestinal bacterial strains.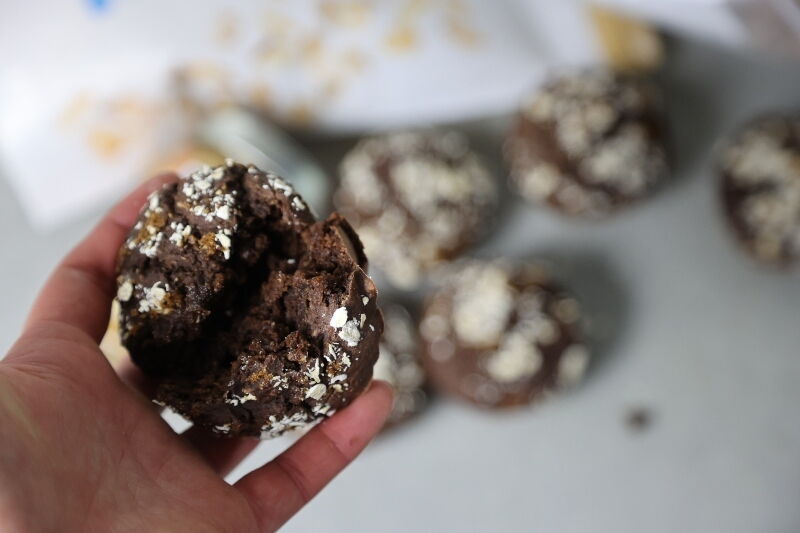 Benefits of tofu
Tofu is cooked food, therefore, there is no possibility to eat it raw.
To make tofu, soybeans are soaked, boiled and turned into soy milk. Soy milk is then cooked again and thickening agents called coagulants are added to help form a cake.
There are a number of potential benefits to eating tofu directly from its packaging.
Tofu is one of the fastest and cheapest ways to add plant proteins to your diet, as it doesn't require much preparation besides draining excess water. It is also a good source of nutrients such as calcium, iron, magnesium, phosphorus and manganese.
Eat the tofu just extracted from the package, also minimizes any oils or added fats that can be used during the common cooking methods. Tofu is a low-calorie food and this is an important feature for those who want to limit their fat or calorie intake.
Muffin with banana and tofu
Ingredients:
1 banana
140 gr tofu
140 gr sugar-free soya milk
50 gr Peanut butter without added sugar
80 gr oatmeal taste dark chocolate
80 gr wholemeal flour
q.b. vanilla essence
3 teaspoons baking powder
1 pinch of salt
1 tablespoon of honey or agave syrup or rice syrup for the vegan version
15 gr bitter cocoa
To decorate:
q.b. jumbo flakes
q.b. raw cane sugar
Cooking:
20' ventilated oven 180 degrees

Proceeding:
Remove the skin of a ripe banana and crush the pulp with a fork.
In a bowl put the banana pulp, tofu, honey, vanilla and blend all with a hand blender.
Add peanut butter and blend again.
Incorporate the flour, the vanilla yeast for sweets, the pinch of salt and finally the bitter cocoa.
Mix until smooth and without lumps.
Fill the muffin moulds for¾.
Decorate the surface with oatmeal and a pinch of brown sugar.
Bake in preheated oven at 180 degrees for about 20 minutes, we recommend the toothpick test.
Conclusions
These muffins are an explosion of taste and health, rich in fibre and beneficial properties, thanks to ingredients such as banana and tofu, of which we discovered something more about the benefits they bring to our health when introduced into our diet.
The absence of eggs or dairy products does not weigh in the least on the final result of these muffins, which are rich in flavour and soft and delicate texture.