A delicious breakfast or snack is just what we need during these days and a slice of my banana bread could really be the right choice..
The dessert capable of making our days spent at home lighter, more positive and smelling of good things.
But let's start with banana bread..
A soft and tasty, healthy dessert, with banana puree, hazelnut flour and drops of dark chocolate in the dough to make it even more delicious.
The cooking scent that will spread in your kitchen will captivate you..
Quick and simple to prepare, it is the perfect dessert when you have ripe bananas to dispose of, versatile, to be enriched with a mix of flours, dark chocolate flakes, dried fruit butters, walnuts or hazelnuts.
Banana bread and its history
In the United States they even dedicated a day to him to celebrate this dessert.
Each year the appointment is set for February 23rd; National Banana Bread Day.
The original recipe is very simple to make and has bananas as its basic ingredient.
This fruit is among other things one of the most used ingredients in American cuisine.
But what exactly is banana bread and what are its origins?
For many it is a real cake for others, however, it is simply a table bread. Banana bread begins to make itself known in the 1930s, a period in which this recipe appears for the first time in a Yankee cookbook.
Isn't clear where the first banana bread was born; there are those who claim that, during the Great Depression, housewives used to use leftovers such as overripe bananas or those who believe that this dessert is an idea of ​​company kitchens.
The fact remains that, over the years, banana bread has depopulated on the tables of American citizens, starting to go beyond its traditional boundaries and reaching everywhere with its infinite variations.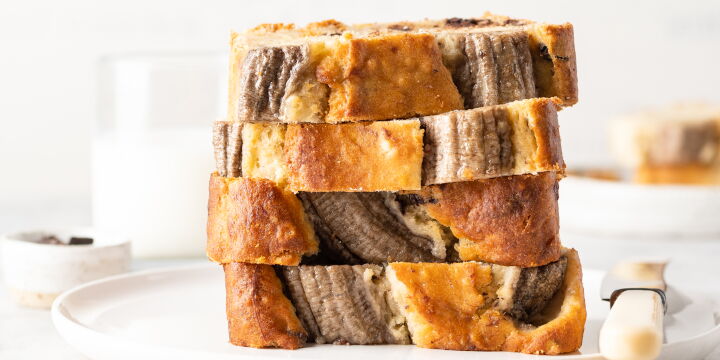 Try my version of banana bread to also enrich with chocolate chips or dried fruit; it is so good that you will come back immediately to prepare another!!!

The recipe that I leave you today is a reinterpretation of this dessert which, through substitutions and ingredients used, I tried to make it less caloric and heavy in terms of digestibility.
Instead of the classic butter provided in the original recipe, I chose to use ghee, a pure fat with millions of beneficial properties.
Ghee butter in the dough
Ghee (or clarified butter) is an ancient Ayurvedic recipe derived from butter.
Its butter from which the water and all the protein components contained in it have been removed.
Rich in short-chain saturated fatty acids which are those that convert quickly into energy and are not stored, antioxidant, free of salt, lactose and casein, detoxifies and purifies the blood and is able to eliminate toxins accumulated in the body.
And how is it used in desserts?
Its used less and less compared to classic butter and it is an excellent ingredient for those who love to experiment: it can be used with flours that bind less than others such as, for example, almond or hazelnut flour.
It makes the dough homogeneous and does not crack and, given its very high smoke point, unlike olive oil and classic butter, at high temperatures it does not change its characteristics and does not burn.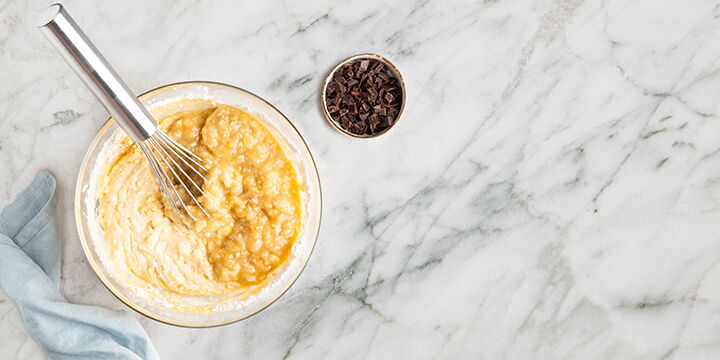 Start experimenting with new ingredients; with this banana bread you can do it right now!!!

Ingredients:
400g of ripe bananas
3 medium eggs
20g of honey
100g of ghee butter
260g of type 0 flour
100g of hazelnut flour
150g of brown sugar
16g of baking powder
50g of dark chocolate drops (optional)
Salt a pinch
1 banana to divide in half for the surface (optional)
Method:
We turn on the oven at 180° (static or 350F).
Purée the bananas by mashing them well with a fork and set aside.
In a saucepan, however, melt the ghee butter and let it cool.
In a separate container, with a hand whisk, we work the eggs with the honey.
add the banana puree and turn well too.
Flush, add the melted ghee.
On the other hand, combine the flour with the brown sugar, the yeast and the salt.
Turn well and start adding it, on several occasions, to the liquids.
Finally, combine the hazelnut flour and the chocolate chips.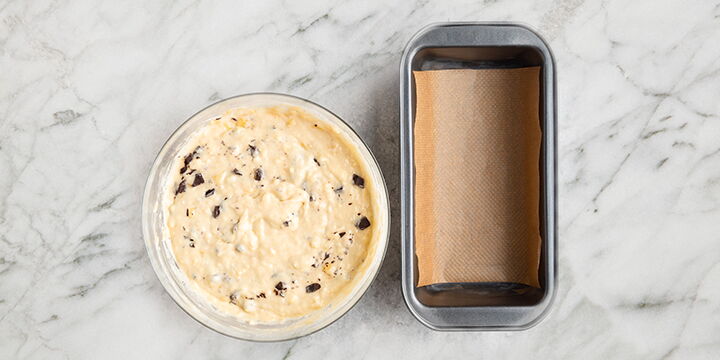 Pour the mixture into a loaf pan.
Add the banana on the surface.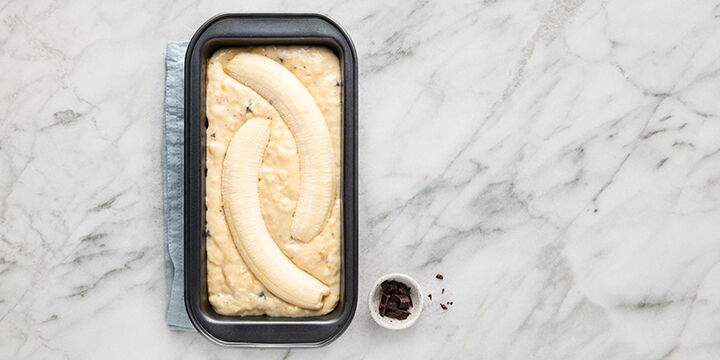 Cook for 30 minutes then lower the oven temperature to 170° and finish cooking for another 15 minutes (total cooking time 45 minutes).
Once cooked, let the cake cool completely inside the mold.
Serve immediately.