On the occasion of the national day of banana bread, another delicious version of this dessert could not be missing.
Thought of it with cream, without eggs and with lots of chocolate chips and then we really made it!!!
For a delicious breakfast or snack, a slice of this banana bread is just what we need.
The dessert capable of making our days light and fragrant with good things..
A soft and tasty, healthy dessert, with banana puree, a very tasty cream flour and many chocolate chips in the dough to make it even more delicious.
The cooking scent that will spread in your kitchen will captivate you.. Quick and simple to prepare, its perfect dessert when you have ripe bananas to dispose of, versatile, to be enriched with a mix of flours, dark chocolate flakes, dried fruit butters, walnuts or hazelnuts.
Banana bread and its history
In the United States they even dedicated a day to him to celebrate it. Every year the appointment is set for February 23rd; National Banana Bread Day.
The original recipe is very simple to make and has bananas as a basic ingredient; one of the most used fruits, in American cuisine, as an ingredient for making desserts.
But what is banana bread and what are its origins?
For many it is a real cake for others, however, it is simply a bread for the table. Banana bread begins to make itself known in the 1930s, a period in which this recipe appears for the first time in a Yankee cookbook.
Isn't clear where the first banana bread was born; there are those who claim that, during the Great Depression, housewives used to use leftovers such as overripe bananas or those who believe that this dessert is an idea of ​​company kitchens.
The fact remains that, over the years, banana bread has depopulated on the tables of American citizens starting to go beyond its traditional boundaries and reaching everywhere with its infinite variations.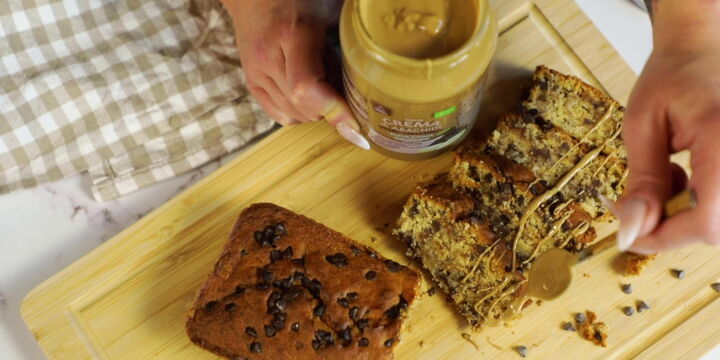 Try my recipe with cream and chocolate chips: its egg-free and therefore suitable for everyone!!!
The recipe that I leave you today is a reinterpretation of this dessert that I made in a very fast version to be made using a single container and, above all, healthy making it much less caloric than the original and less heavy in terms of digestibility.
Instead of the classic butter, provided in large quantities in the original recipe, chose to use seed oil to be replaced in the same quantities, if you prefer, with coconut, a fat with many beneficial properties.
I thought of replacing the refined flour provided for the original version with a brand new Smile Crunch cream flavored oatmeal that is perfect in the mix of banana and chocolate flavors.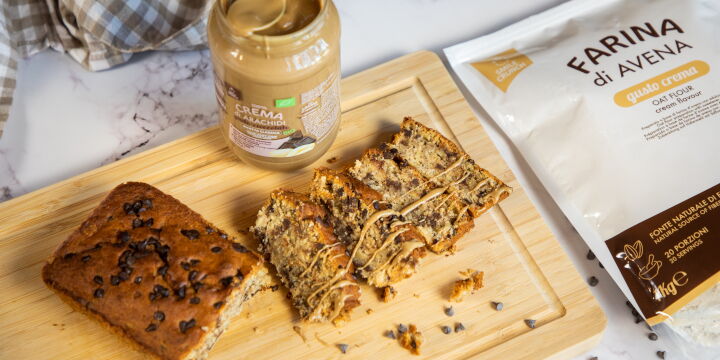 Follow me and experiment with new ingredients: with this banana bread you can do it now!!!
Ingredients for 2-3 people:
110g of cream flavored oat flour
150g of banana
40g of organic cane sugar
8g baking powder (or cream of tartar and bicarbonate)
40g of peanut oil
60g sugar-free almond milk
60g of dark chocolate chips
Method:
Before starting with the preparation of the dough, put the chocolate chips in the freezer.
In a container, cut the banana into slices.
Also pour the brown sugar and, with a fork, reduce the ingredients to a puree.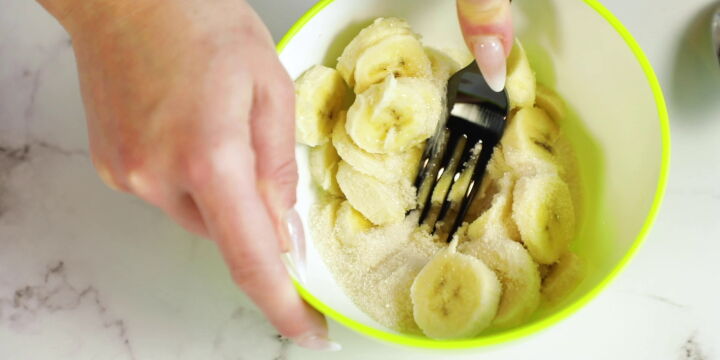 Combine the oil and milk.
Turn well with a hand whisk.
Add the oat flour and baking powder to the liquid mixture.
Obtain a compact mixture by always turning the ingredients with the hand whisk.
Take the drops of fondant that we put in the freezer before starting and add 50g to the dough, keeping the rest for the surface.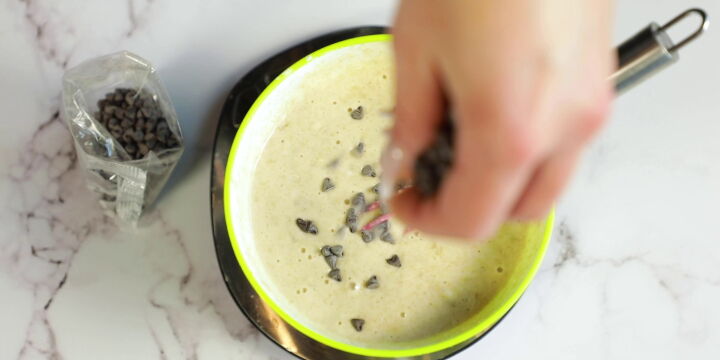 Turn well and pour the dough into a plumcake mold (aluminum is fine too) where we pass the coconut oil to dab with kitchen paper or a cake remover spray.
Add the remaining drops to the surface.
Bake in a preheated oven at 180° (static) for 35 minutes.
Always do the toothpick test to make sure the cake is cooked in the center as well.
Let it cool inside the mold.
Then we cut into slices and enjoy immediately.
Also to be accompanied with one of the organic dried fruit creams available in the Smile Crunch catalog.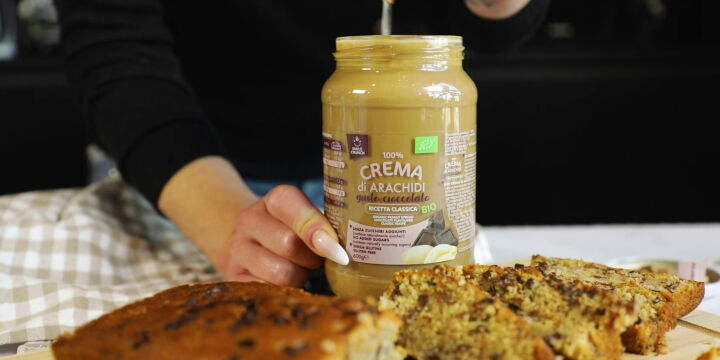 Even the chocolate flavor with flakes is perfect and delicious!
Did you like the recipe for banana bread with cream and chocolate?
Do you have other versions of this dessert to offer us?
Write us everything in the comments!!!