Making ice cream at home without an ice cream maker is possible and is extremely simple and fast!
Like these irresistible hazelnut Magnums with their chocolate coating
Magnum ice cream: healthy version
Now you can enjoy hot days without worrying about your figure with these wonderful Magnum ice creams in the healthy version without sugar and without whipped cream.
To make the base I chose to use one of Smile Crunch's best dried fruit creams: the 100% organic hazelnut cream.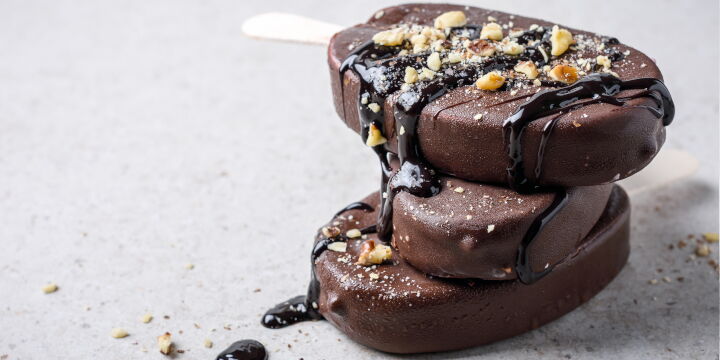 These ice creams have it all: a creamy filling that does not freeze forming annoying crystals and the crunchy crust of the couverture chocolate
No frost crystals
Thanks to the tara seed flour (which can be replaced with carob or xanthan) our ice cream will be soft and creamy just like the original one. The only difference will be the genuineness of a product made with healthy ingredients to be enjoyed in a thousand different ways: fruit, other sugar-free creams, dark or white chocolate coatings enriched with dried fruit grains.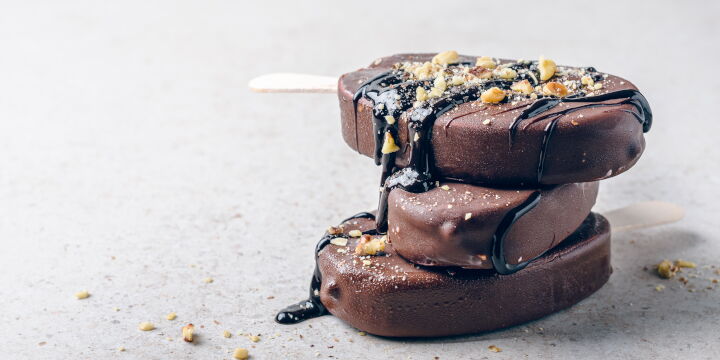 Ready with a few ingredients for a magnificent result that everyone likes: find out how!
Ingredients:
doses for 5 Magnum ice creams
170g of organic hazelnut cream
200g of natural white yogurt 0%
100g of skimmed milk powder
100g of hazelnut milk
3 g of tara seed flour
200 g dark chocolate (for covering)
Method:
In a container we work, with a spoon, the skimmed milk powder with the hazelnut drink.
Also add the yogurt and, again with a spoon, stir, mixing the ingredients well.
Pour the hazelnut cream and work the mixture until a creamy mixture is obtained.
Finally, add the tara flour, taking care to turn well.
Pour the cream obtained inside the silicone molds for ice cream by adding the stick.
Put in the freezer for at least 2-3 hours (even all night if you prefer).
Melt the fondant in a bain-marie and completely cover our ice creams.
Put in the fridge to stop the cover.
Let's taste it immediately.