In our recipe today, eggplant and walnuts come together to create an explosion of flavors.
We present this incredible pesto embellished with other fresh and healthy ingredients. Thanks to the walnut cream, it is possible to make an extremely versatile pesto in the kitchen.
Before moving on to the recipe, let's find out more about aubergines, the protagonists of today's recipe.
Eggplant is a high-fiber and low-calorie food, rich in nutrients and with many potential health benefits, they contain a good amount of vitamins, minerals and fiber in low calories.
Eggplant is low in carbohydrates and high in fiber, it also contains a number of other nutrients, including niacin, magnesium and copper.
In addition to containing a variety of vitamins and minerals, eggplants boast a high number of antioxidants, substances that help protect the body from damage caused by harmful substances known as free radicals. Thanks to their antioxidant content, some studies suggest that eggplants may help reduce the risk of heart disease.
Eggplants are particularly rich in anthocyanins, a type of pigment with antioxidant properties that is responsible for their color.
Several studies have also found that eggplants can improve heart function and reduce LDL cholesterol and triglyceride levels.
They are also useful in controlling blood sugar, mainly because eggplants are rich in fiber and polyphenols.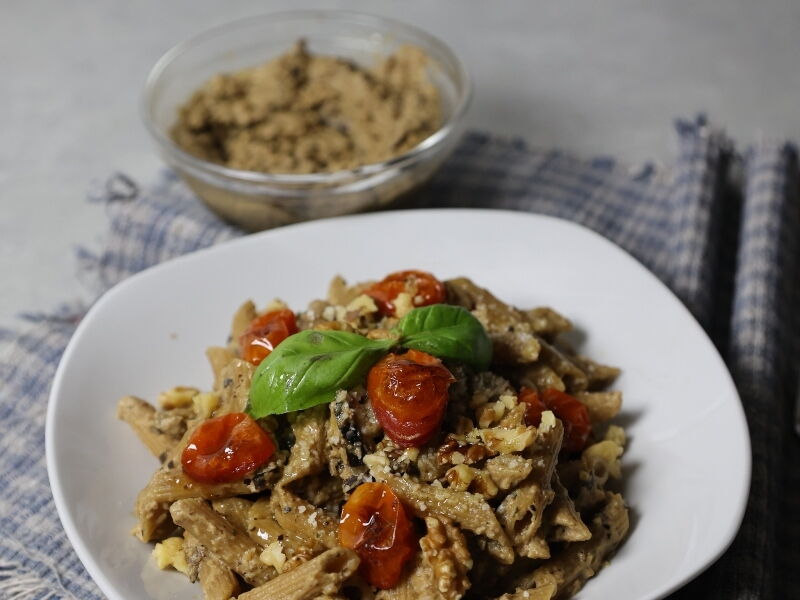 Ingrediants
2 eggplants
1-2 cloves of garlic
50ml extra virgin olive oil
50g walnut cream
20g walnuts
(or 100g of shelled walnuts)
50g Parmesan cheese
4-5 basil leaves
b. salt
b. pepper
Method
Wash the aubergines under running water and dry them with a cloth.
Preheat the static oven to 200 ° C.
Cut the aubergines in half and arrange them on a baking sheet with parchment paper.
Bake the aubergines in the oven for 30 minutes (or until they are soft). It is not necessary to use oil in cooking.
Leave the aubergines at room temperature and once cold cut them coarsely.
In a blender, blend the cooked aubergines, walnuts and walnut cream, Parmesan, oil. Basil, salt, pepper and garlic. Blend until creamy.
The pesto can be consumed immediately, for example, to season pasta or be spread on wholemeal croutons, or, stored in the refrigerator in an airtight container.
Conclusions
The walnut cream, with no added sugar or fat, is perfect for creating both sweet and savory recipes. We have seen DIRECTIONS the walnut cream in a savory recipe which, in turn, can be used in different preparations: from pasta to risotto or as a cream to accompany toast or pizza.
A recipe to make and redo and enjoy in a thousand ways!