The macrobiotic diet, is a real lifestyle, rather than a food approach. In this post, we will investigate the origins, the foods to eat, those to avoid, the particularities, and scientific evidence of this particular diet.
Origins of the macrobiotic diet
The first popularizer of this type of diet was the Japanese physician Nyioti Sakurazawa who, observing and imitating the nutrition of Buddhist monks, developed the basis. The macrobiotic diet, therefore, embraces oriental culture and philosophy, pursuing a state of well-being through the achievement of the balance between Yin and Yang. The foods we eat were therefore divided into:
 Acid-Yin foods, such as milk and dairy products, fruit, tea, spices, etc.
 Alkaline- Yang foods, such as salt, meat, fish, chicken, eggs, etc.
The basic concept is the search for balance between these food sources by promoting the intake of certain foods considered naturally balanced such as cereals, legumes, and oilseeds. Nutrition acquires in this context fundamental importance in the balance between body and mind. The word "macrobiotic" originates from the Greek makros+bios and means a great/long life.
Recommended foods and foods to avoid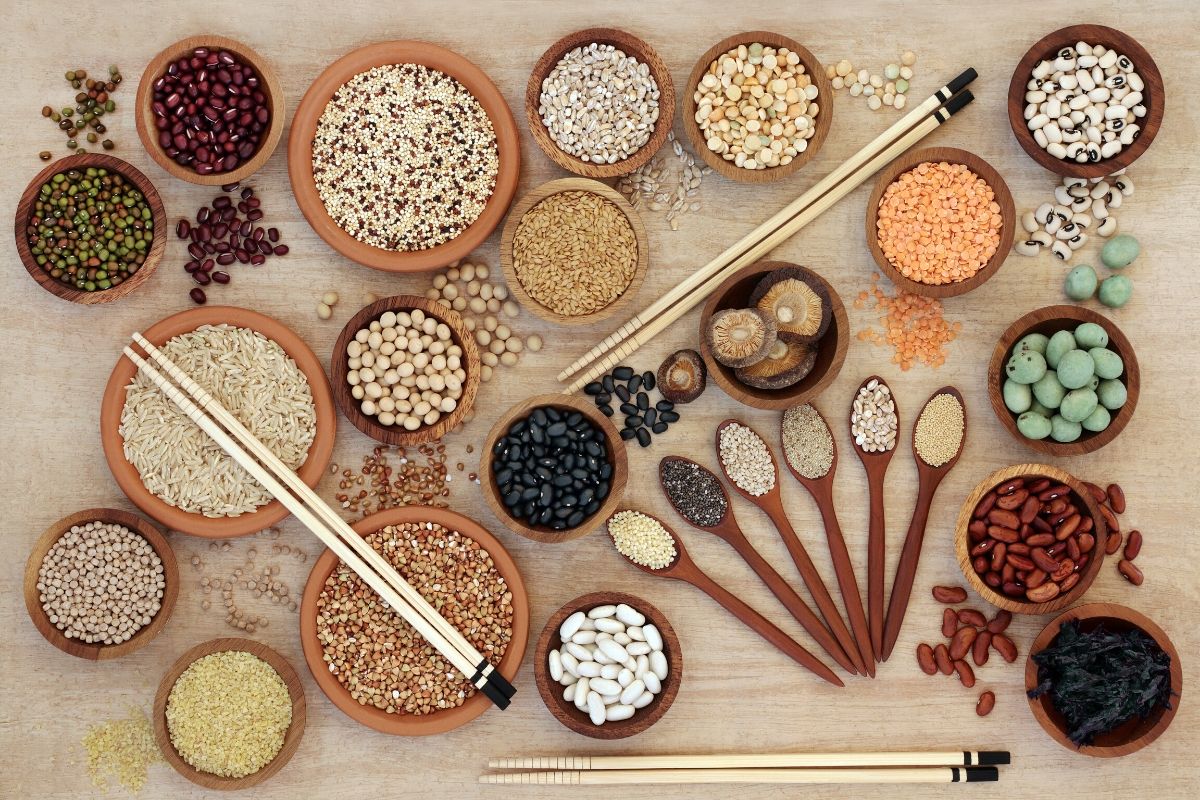 Recommended foods
 Take fruit and vegetables as a source of fiber and simple sugars;
 Prefer fish and legumes over meat (to be consumed a maximum of 4 times a week);
 Do not exceed with: milk and derivatives, spices, earth salt, and coffee;
 Prefer whole wheat bread;
 Pizza can be eaten occasionally, not very elaborate and with minimal quantities of tomato and mozzarella;
 For raw flavorings, the salt can be replaced by Gomashio;
 The tea should be replaced with Japanese bancha tea or kukicha tea, whose caffeine content is very low.
Foods to Avoid
 Avoid sophisticated/refined foods and prefer natural production foods;
 Avoid sugar and sweets, as a substitute to use first of all cereal malt otherwise rice or wheat syrup;
 Among the vegetables, tomatoes, potatoes, aubergines are not recommended;
 Crustaceans are prohibited;
 Dried fruit should be eaten occasionally and nuts should be avoided;
 The consumption of sausages should be avoided;
 Avoid the egg;
 Wine vinegar should be avoided (replaceable with umeboshi);
 Avoid both spirits and carbonated and sugary drinks;
 Do not overdo the consumption of water.
The macrobiotic diet takes particular care of the chewing process to guarantee digestive efficacy and satisfy the taste.
Macrobiotic diet: how does it work?
Liquids

The high intake of liquid or brothy foods induces a reduction of the water requirement and favors the absorption of the cooking solutes.
Proteins

The protein percentage is mainly given by proteins of vegetable origin. For those who are not experts in vegetarian/vegan approaches, it is always better to consult a professional who can recommend the most suitable sources and combinations.
Carbohydrates

The energy requirement supported abundantly by carbohydrates, which are distributed in a balanced way between complex carbohydrates and simple carbohydrates.
Fats
The lipid content is reduced and the ratio between saturated and unsaturated fatty acids is not optimal but the habit of preferring fish to meat (as well as the high consumption of vegetables) favors the achievement of the recommended intake levels of essential Omega 3 fats. is
Omega 6.
Tips for cooking and eating meals
Cooking utensils for cooking should be mainly stainless steel, enameled iron, or cast-iron containers, while aluminum or copper containers should be avoided. Regarding the environment and the methods of eating meals, the aim is to search for a quiet place and a relaxed attitude, to be able to focus on a long chew and promote digestive processes.
Percentages of food-types in the diet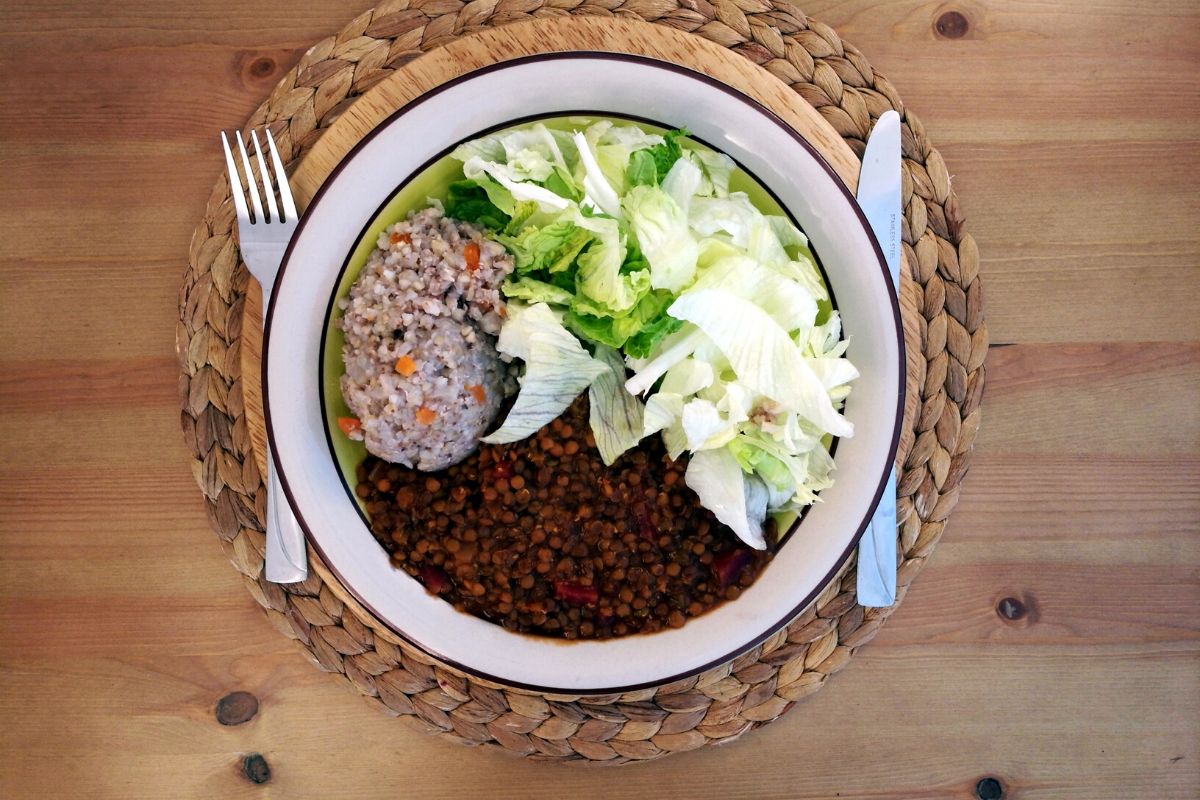 50%: whole grains in grains;
20 to 30%: raw and cooked seasonal vegetables;
10 to 20%: white meat, fish or legumes, seitan, soy croquettes, etc.
10%: fresh seasonal fruit, or seaweed.
Macrobiotic diet: what does scientific research say?
Arguments in favor

Recently, the macrobiotic diet has aroused new interest as a diet regimen that can be used to prevent the appearance of many ailments.For this reason, it can be said that the aspects more related to its application philosophy have somehow been put aside compared to a more thoughtful scientific-practical application. In addition to the part related to the macrobiotic diet, the research has taken into consideration other applications of the principles on which macrobiotic philosophy is based, for example:
 greater emphasis on physical activity;
 reduced exposure to pesticides and other chemicals and electromagnetic radiation
 stress reduction
All useful factors for cancer prevention [1,2]. Philosophically, the macrobiotic diet promotes the concept that phenomena are universal and related. Patients who adhere to this lifestyle necessarily take an active role in their treatment, i.e. make the necessary lifestyle changes.
Criticisms

One of the biggest criticisms of this type of dietary approach concerns the possible nutritional deficiencies caused by prolonged use. Cases of infants with symptoms of malnutrition (including vitamin B12 and D deficiency) have been reported in the medical literature [5-7]. The possibility of these types of nutritional deficiencies has been documented in repeated surveys of groups of children and families who have followed a macrobiotic lifestyle [8-14].

These nutritional status studies, mainly in infants or growing children, have long been the basis for most indications against the use of macrobiotic diets to treat many types of diseases. Assuming that any type of treatment that creates a situation of nutritional deficiency is highly discouraged; many doctors believe that imposing dietary restrictions is potentially dangerous for patients who are already losing significant amounts of weight due to disease or related drug treatment.
Macrobiotic diet and cancer

On the other hand, these nutritional restrictions have been proposed to help slow the progression of cancer by starving the rapidly reproducing cells responsible for the disease [15].

According to the 1997 report made by the American Institute for Cancer Research and the World Cancer Research Fund, the increase in daily consumption of fruit and vegetables from 250g to 400g can lead to 20% fewer cancer cases worldwide world [16]. A growing body of evidence suggests that the consumption of whole grains can reduce the risk of cancer at various anatomical sites [17].

Since macrobiotics supports a diet with high consumption of vegetables and whole grains, a logical assumption related to what has been stated above may suggest that the macrobiotic diet regime should also help reduce the risk of cancer. However, very few studies specifically suggest the macrobiotic diet as an effective cancer prevention method.
Macrobiotic diet and overweight

In addition to its anti-inflammatory nutritional profile, the macrobiotic diet is, as mentioned, a relatively low-calorie dietary approach but still maintains sufficient concentrations for most nutrients, thanks to its high nutrient density. Restrictive calorie intake can help reduce body weight over time in people who consume a macrobiotic diet.

Overweight and obesity are positively associated with higher levels of chronic inflammation [18]. In a recent article, a positive protective effect of the macrobiotic diet on the outcomes related to diabetes mellitus is highlighted [19]. In this study, participants in a macrobiotic diet saw a favorable change in body weight, lipid values, reduction of oxidative stress, and improvement of insulin secretion. After 6 months of macrobiotic intervention, the following have been observed:
 significant reductions in body weight (-9.0%),
 total cholesterol (-16.4%),
 LDL "bad" cholesterol (-22.7%),
 triglycerides (-37.0%);
 increase in "good" HDL cholesterol (+ 97.8%).
After this brief analysis of the scientific literature, it can be said that the macrobiotic diet has the potential to help in the prevention and control of diseases, particularly through its characteristic of being low in calories and high in nutrient density. This can be useful for those populations where excessive calorie consumption and obesity represent a great risk to public health, represent the first factor of recommendation and prevention of some types of diseases [20].
References
Eisenberg DM, Kessler RC, Foster C, Norlock FE, Calkins DR, et al. Unconventional medicine in the U.S.: Prevelance, costs and patterns of use. N Engl J Med. 1993; 328:246-252. [PubMed: 8418405]
Eisenberg DM. Advising patients who seek alternative medical therapies. Annals Int Med. 1997; 127:61-69.
Elder ND, Gillcrist A, Minz R. Use of alternative health care by family practice patients. Arch Fam Med. 1997; 6:181-184. [PubMed: 9075455]
Landier W, Tse AM. Use of complementary and alternative medical interventions for the management of procedure-related pain, anxiety, and distress in pediatric oncology: An integrative review. J Pediatric Nursing. 2010; 25:566-579.
Holland, JC.; Geary, N.; Furman, A. Alternative cancer therapies. In: Holland, J.; Rowland, J., editors. Handbook of Psychooncology. Oxford: Oxford University Press; 1989. p. 508-515.
Carpenter CL, Ganz PA, Bernstein L. Complementary and alternative therapies among very long- term breast cancer survivors. Breast Cancer Res Treat. 2009; 116:387-396. [PubMed: 18712472]
Weitzman S. Complementary and alternative (CAM) dietary therapies for cancer. Pediatric Blood Cancer. 2008; 50(2 Suppl):494-497. [PubMed: 18064662]
Bowman BB, Kushner RF, Dawson SC, Levin B. Macrobiotic diets for cancer treatment and prevention. J Clin Oncol. 1984; 2:702-711. [PubMed: 6374060]
Carter JP, Saxe GP, Newbold V, Peres CE, Campeau RJ, Bernal-Green L. Hypothesis: dietary management may improve survival from nutritionally linked cancers based on analysis of respresentative cases. J Am Coll Nutr. 1993; 12:209-226. [PubMed: 8409076]
Kushi, M.; Jack, A. The Cancer Prevention Diet: Michio Kushi's Nutritional Blueprint for the Prevention and Relief of Disease. New York, NY: St. Martin's Press; 1993.
Porrata-Maury C, Hernandez-Triana M, Rodriguez-Sotero E, Vila-Dacosta-Calheiros R, Hernandez-Hernandez H, et al. Medium- and short-term interventions with ma-pi 2 macrobiotic diet in type 2 diabetic adults of bauta, havana. J NutrMetab. 2012; 2012:1-10.
Levy EM, Cottrell MC, Black PH. Psychological and immunological associations in men with AIDS pursuing a macrobiotic regimen as an alternative therapy: a pilot study. Brain, Behavior, & Immunity. 1989; 3:175-182.
Esmaillzadeh A, Kimiagar M, Mehrabi Y, Azadbakht L, Hu FB, et al. Fruit and vegetable intakes, C-reactive protein, and the metabolic syndrome. Am J Clin Nutr. 2006; 84:1489-1497. [PubMed: 17158434]
Kushi LH, Cunningham J, Hebert JR, Lerman R, Bandera EV, Teas J. The macrobiotic diet in cancer. J Nutr. 2001; 13:3056S-3064S. [PubMed: 11694648]
Berkow SE, Barnard ND, Saxe GA, Ankerberg-Nobis T. Diet and survival after prostate cancer diagnosis. Nutr Rev. 2007; 65:391-403. [PubMed: 17958206]
Levy EM, Cottrell MC, Black PH. Psychological and immunological associations in men with AIDS pursuing a macrobiotic regimen as an alternative therapy: a pilot study. Brain, Behavior, & Immunity. 1989; 3:175-182.
Berkow SE, Barnard ND, Saxe GA, Ankerberg-Nobis T. Diet and survival after prostate cancer diagnosis. Nutr Rev. 2007; 65:391-403. [PubMed: 17958206]
Nguyen XM, Lane J, Smith BR, Nguyen NT. Changes in inflammatory biomarkers across weight classes in a representative US population: a link between obesity and inflammation. J Gastrointest Surg. 2009; 13:1205-1212. [PubMed: 19415399]
Porrata C, Sanchez J, Correa V, Abuin A, Hernandez-Triana M, et al. Ma-pi 2 macrobiotic diet intervention in adults with type 2 diabetes mellitus. MEDICC Rev. 2009; 11:29-35. [PubMed: 21483296]
Obesity and Cancer - A Guide for Oncology Providers. American Society of Clinical Oncology. Available from: https://www.asco.org/sites/www.asco.org/files/obesity_provider_guide_final.pdf