Cookies are those wonderful cuddles that at any time of the day can give us a smile. The basic requirement is crunchiness, perfume and taste.
These cookies will not disappoint your expectations while being extremely light and made with very few ingredients.
Oats will be indispensable in two formats, both as flakes, in this case flavored with vanilla, and as real flour, in this case flavored with biscuit taste.
The Rapè coconut will help to get the desired final consistency. Alternatively you can use coconut flour in the same amount or increase the oatmeal of 50g!
Red fruits are the hallmark! Raspberries will give a delicate and pungent flavor, while raisins with its sweetness and softness, will give character to the whole recipe!
It is not mandatory to use these two ingredients, to get simple cereal biscuits you will just omit them. Alternatively you can replace them for example with blueberries or dried figs!
These biscuits, thanks to oats and also coconut Rapè, are rich in fiber, a fundamental source for our intestinal regularity and for the health of our intestines.
The fiber also lowers the glycemic index of the food. The consumption of 20-25g of fiber per day is in fact the minimum recommended!
Perfect for breakfast or dinner, accompanied by a protein source.
Let's see how to make these delicious biscuits with cereals and red fruits!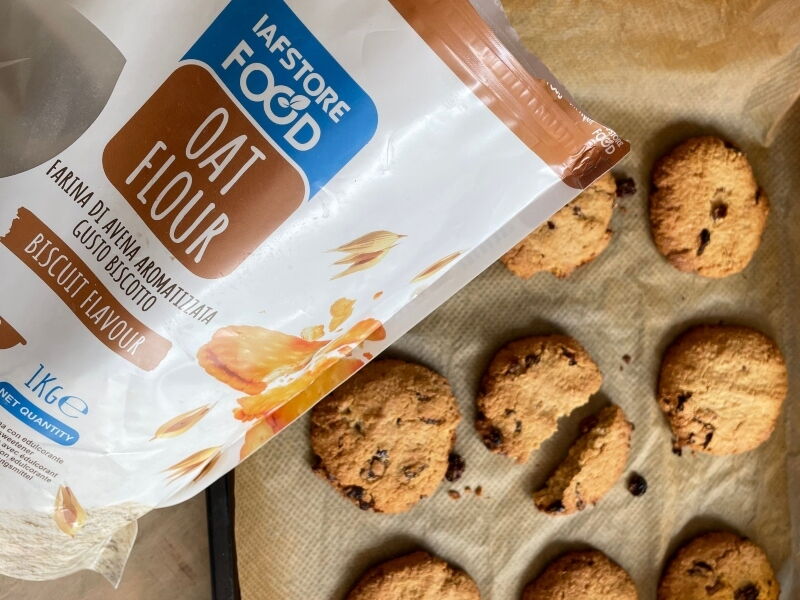 Ingredients for 9-12 biscuits:
100g oatmeal biscuit taste
100g vanilla oatmeal flakes
20g coconut Rapè
2g vanilla yeast for sweets
1g salt
30g sugar cane or sweetener
1 egg
50g butter
35g raspberry
35g sultanas
Procedure:
First, combine all the dry ingredients (except the raspeberry and raisins) in a fairly large and mercolate bowl. In the middle, first put the cold butter from the refrigerator, cut into cubes, and then an egg.
Knead with your hands until you get a nice compact mass, do not worry if it will be a little sticky to the touch!
Finish with the dried raspberries and the raisins! At this point lined with baking paper a baking pan.
With the help of a spoon take some dough, in total this dough will be 9 large cookies or 12 smaller. Shape them with your hands and crush them on the surface and place them on baking paper.
Cooking in a ventilated oven 180 degrees for 15 minutes!
Conclusions:
Making delicious oatmeal biscuits with low fat and sugar is really simple! The cooking times are very low but the perfume will invade the entire kitchen!
They will surely please everyone, including children, in fact they are perfect for a healthy and tasty snack, perhaps accompanied by a yogurt without added sugar and organic fruit eaten with the skin.
A tasty and healthy cuddle made with a few ingredients and in no time!