Have you already thought about the dessert to prepare for Easter?
We have decided to give you an idea that will please everyone; including children.
After all, you know, a day without cookies is a lost day and this happens even at Easter!
Cookies with eggs: an healthy recipe
Crumbly and fragrant, these biscuits are prepared with a shortcrust pastry in a healthy version, scented with lemon and with a delicate cream taste.
From this preparation a healthy, genuine and super greedy biscuit was born, ideal for Easter breakfast or to accompany a coffee with something light that does not make us give up on taste.
A versatile preparation because, even if the chosen decoration refers to the Easter period, these cookies can be prepared throughout the year by choosing other decorations such as chocolate chips or dried fruit or making them with different shapes: hearts, stars, flowers etc.
To make them tasty and healthy, I chose Smile Crunch cream-flavored oatmeal for the base of the pastry, which makes them perfect and truly greedy.
The preparation does not involve the use of eggs so that it can be tried by everyone.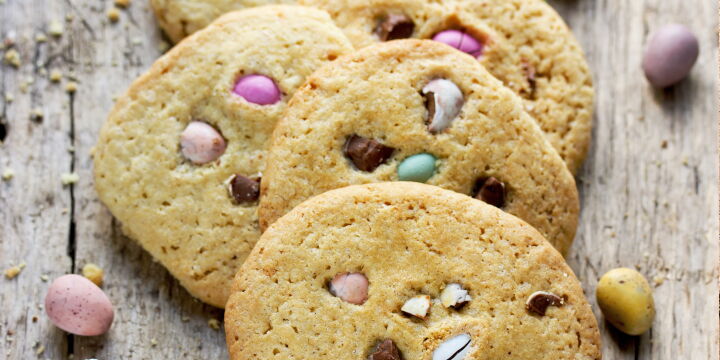 Simple and fragrant without eggs, sugar and butter with colored eggs to make them festive, they are also lactose free
Instead of milk use a vegetable drink with no added sugar and instead of sugar use erythritol, a perfect substitute that will make our biscuits sweet but without excess.
Very few ingredients, easy to make and very fast: nothing gets dirty because the pastry is all done inside a container.
A perfect idea also to give as a gift
These cookies are a very nice idea as a gift too.
Once cooked and cooled they can be placed in bags and tied with colored ribbons perhaps with a card or placed inside a box or a colored basket, in the shape of a nest, prepared with colored sprinkles and different shapes, perhaps adding a few chocolate eggs.
Good, healthy, made with Smile Crunch oatmeal cream and therefore delicious; in short, many reasons to try them immediately
Ingredients:
100g of erythritol
1g of baking soda
2g of baking powder
salt a pinch
80g of peanut oil
80g of sugar-free almond vegetable drink
80g of almond flour
20g of colored mini eggs (or chocolate) reduced in coarsely flakes
Method:
In a container put the oat flour, baking soda, salt and erythritol.
With a spoon turn, incorporating the ingredients together.
Add the seed oil, the vegetable drink and the almond flour.
Always turn with the spoon and also add the flakes of the eggs keeping some aside.
Make a loaf.
With the dough that doesn't need rest, make balls weighing 40g each and place them on a baking sheet lined with baking paper.
Squeeze lightly and add some flakes on the surface.
Bake in a static oven preheated to 180 degrees for 15 minutes.
Let cool completely to get the right consistency.
Let's taste it immediately.
Happy Easter!!!