How good is the custard? Personally, one of my favourite creams to combine with the most delicious desserts or, why not, even to eat so a teaspoon every now and then! In this recipe, we will see how to make a Fit version with low sugar!
What is Custard Cream?
The Custard Cream is a cream used in the kitchen for centuries. It is based on egg yolk, flour, sugar and, often, with the addition of lemon and various spices (never tried with vanilla?). There are many reworkings each of which surely represents gluttony. Yes, the custard cream, cream par excellence, is also one of the most sugary and fat preparations that there is in the kitchen. But that doesn't mean we have to give it up! In this article, we will see how to reduce the amount of sugar and enjoy a delicacy for those who do not want to give up the taste! In this way, anyone can insert it into their food plan without guilt, fully enjoying its unique taste!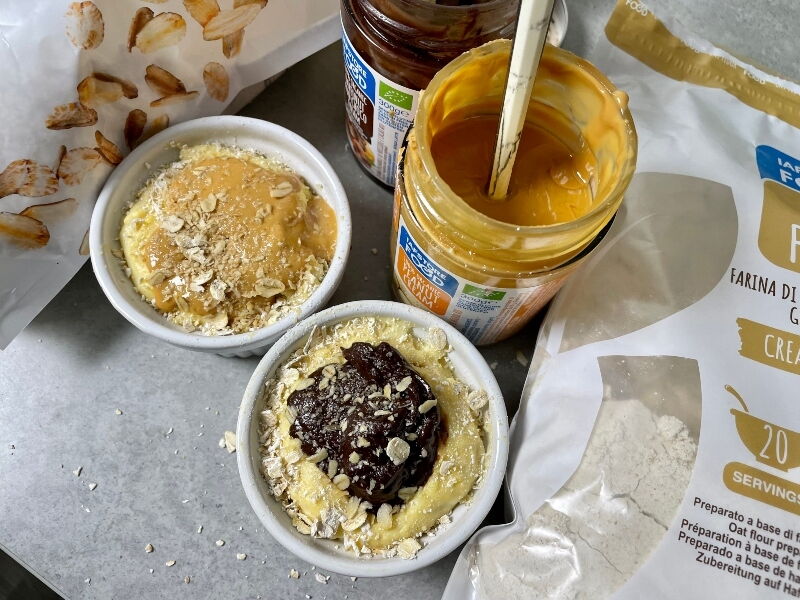 Ingredients for custard cream
40 g of cream flavoured oatmeal
200 g egg yolks
300 ml vegetable or skimmed milk
20 g erythritol
Vanilla (if you like)
Lemon zest (if you like)
Procedure
Pour the milk into a saucepan and put it to heat over low heat. You can use skimmed, partially skimmed or sugarless vegetable milk. Try it with almond milk, which adds a very special spicy touch!


Separate the egg whites from the egg yolks and put all the egg yolks in a bowl.


Add erythritol or a sweetener to your liking, oatmeal and stir until the mixture is presented without lumps.


At this point add the milk that will be lukewarm. It is important not to be too hot, otherwise, the yolks are cooked!


Keep stirring and, when you have obtained a smooth mixture, pour it back into the saucepan and continue to stir so that the cream does not stick. As said, this procedure serves to bring the yolk gradually to temperature without cooking, we do not want an omelette!


When the mixture has thickened, pour it into a bowl and let it cool. I put it in two shapes and added in one our chocolate and almond cream, in the other peanut butter.


A sprinkling of oatmeal and the recipe is ready to be served!
It keeps quietly in the refrigerator for 2 days. But it is better when consumed immediately, still warm!
Conclusions
We have seen how easy it is to make our Fit custard. Follow the other recipes of the channel but mark this because it will be present in many other preparations, we will show you how to best use it in extraordinary recipes!