What is it?
Cookie Dough is a dessert that comes from the United States and is simply the raw cookie dough that is eaten without cooking.
That's right; no cooking!

There are many variations of Cookie Dough and some American restaurants have specialized exclusively in the sale of this product.
One example is Do; restaurant located in New York that has made Cookie Dough its flagship product, so much so that it reaches online sales.
Indeed, in some American ice cream parlors, cookie dough-flavored ice cream is made, as at Ben & Jerry's which has been making it for many years.
In Italy, cookie dough is not widespread and you can only try it by purchasing it online.

Today I thought of offering you my personal reinterpretation of American cookie dough.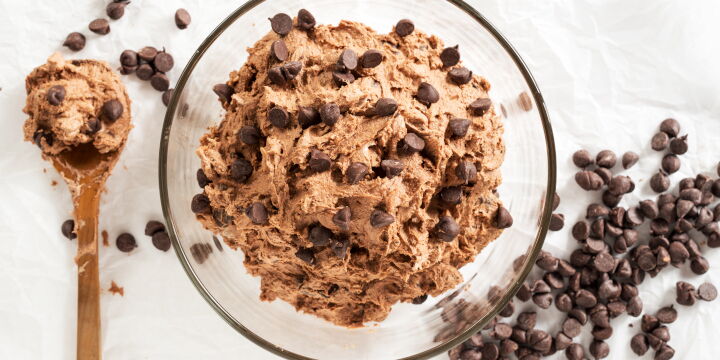 A healthy version, without butter and sugar and also vegan..
In fact, I thought of making a version of cookie dough without eggs and using a vegetable drink, recreating the classic version of this all-American preparation; the mixture of cookies with chocolate chips to be served like an ice cream..
But how do you prepare a classic Cookie Dough?
Being a raw dough, the first clarification to make is that, if you decide to use eggs for your recipe, they must be pasteurized.
The other ingredients included in the original recipe are, of course, butter, sugar, flour and vanilla extract to which other ingredients are added such as chocolate chips useful to give a crunchy effect to the dough.

A versatile dough, to be made with different ingredients that will give it specific taste notes and names..

The classic, the one with chocolate chips, is, for example, the Chocolate Chip Cookie Dough.
So how many are there?
In addition to the classic cookie dough with chocolate chips and a base dough, there are several versions of this dessert.
One of these, much loved in America, is the one without eggs and flour, made with butter, cream cheese and chocolate chips, served as a real spoon dessert; is the Cookie Dough Dip. Another well known version is healthy and made from chickpeas; the Chocolate Chip Cookie Dough Hummus; a preparation where the dough is created by adding cashew butter, milk, maple syrup and chocolate chips to the chickpeas.
Cookie Dough: my version
The recipe that I leave you today is clearly my personal reinterpretation of this dessert.
I have not strayed from the final result but I have tried, through substitutions and ingredients used, to make this dough less caloric and heavy than the original butter and sugar and suitable for everyone.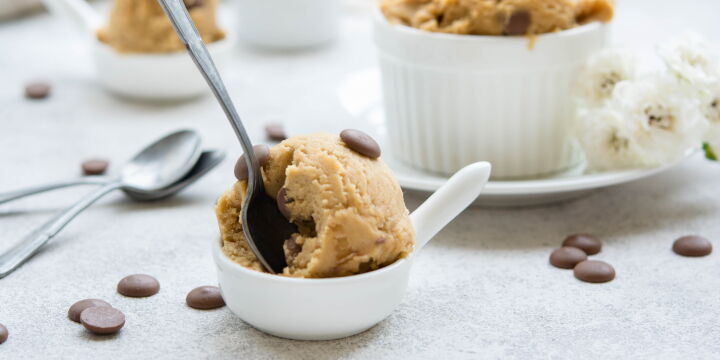 What I propose is biscuit flavor but it is possible, by changing the flours, to obtain doughs with different flavors to be customized according to your tastes and needs, perhaps by preparing a protein cookie dough..
Ingredients:
200g of cookies flavored oat flour
30g of rice starch (or starch or corn starch)
190g sugar-free almond milk
40g of dark chocolate chips

Method:
Pour the oat flour and rice starch into a container.
turn the ingredients and start pouring the almond milk.
get a thick mixture to which we add the chocolate chips.
Let it rest in the fridge for 15 minutes (even overnight).
take the dough again and with the scoop we make balls of ice cream.
serve in small cups adding dark chocolate flakes or other chocolate chips.
Tips:
Its also possible to add grains of biscuits or dried fruit to taste.
It keeps in the fridge for several days.
Did you know this American fashion of eating raw cookie dough?
sondaggio_si = I had heard about it and I also tried it..
sondaggio_no = I didn't know her and now I want to try